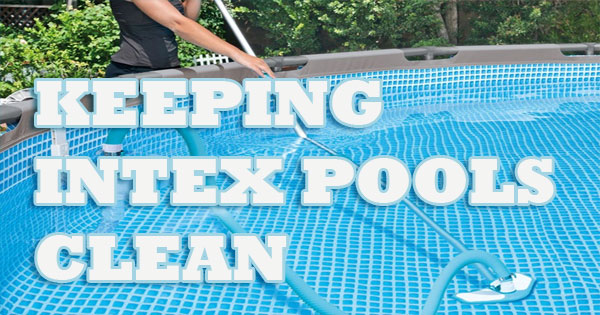 The Pool Rush of 2020 created thousands of new pool owners. Many have never cleaned a pool before, and now need to know how to maintain their Intex pool (or Bestway or Summer Waves pool).
Today's post will give you some insights into the basics of cleaning Intex pools, and what equipment and tools we find most useful. We also talk about automatic cleaners for Intex pools, and which ones work the best.
---
How to Clean Intex Pools
Cleaning an Intex pool is no different from any other pool – we vacuum the floor, brush the walls and skim the surface, although not necessarily in that order.
SKIM THE SURFACE: Let's talk about the surface first. Many Intex pools do not have a skimmer, so removing debris floating on the surface before it sinks, is a good practice. For pools still open during autumn, take a look at our Leaf Catcher leaf net covers.

If you have a small flat net, on a 4 ft aluminum pole, give that to your little helpers to use. For yourself, get a Leaf Rake and a standard 8′-15′ telescopic pool pole. Leaf rakes have large bags and a beveled front edge for scooping stuff, large and small, from the pool floor.
BRUSH THE FLOOR: Soft-sided pools like Intex are made from vinyl, which can develop a thin bio-film bacteria on the surface (ewww!) when conditions are right. Discourage algae and bacteria from forming with a nylon brush for the walls and floor of your pool. A good pool brush will also distribute chemicals and helps to prevent stains on your pool liner, from dirt deposits in folds and wrinkles.
VACUUM THE FLOOR: Removing the dirt, dust and debris that collects on the pool floor is more complicated, because it involves hoses and suction and a bit of technique. There are no less than 5 ways to clean the floor of an Intex pool.
And what about Robotic pool cleaners? Yes there are a few robotic cleaners for aboveground pools, in the $300-$500, such as the Aquabot Pool Rover line of cleaners. Robotic cleaners are completely independent of the filter system, and they also filter the water as they clean the pool.
---
Other Tips for Cleaning Intex Pools:
Clean water line ring with (small amounts) of Soft Scrub cleanser.
Trim back nearby trees that need a pruning.
Cover the pool with an Intex Cover, Winter Cover or Solar Cover.
Skim, Vacuum and Brush, is the correct order for cleaning a pool.
Cleaning the pool is fun; share the fun with your family, and let them help!
Keep it Clean, America!