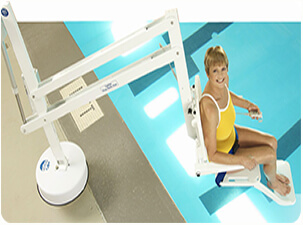 Thousands of swimming pool lifts have been installed in the U.S. in the last ten years, to comply with Federal law.
Although most see low usage, nearly ten year old pool lifts are now starting to show signs of wear. Regular maintenance of a pool lift is necessary to protect your rather large investment.
Just like a car, regular maintenance to a mechanical pool lift will help to keep it looking and performing in a like-new condition. In fact, it's a requirement that pool lifts be maintained, and always at the ready for those who need a lift.
If you are interested or responsible for maintenance on a swimming pool lift, and want to also care for it, so it performs well, and is always ready for use – this blog post is for you.
POOL LIFT MAINTENANCE
Of course, the main goal of pool lift maintenance is to have a pool lift that works, and one that is safe to use for individuals with disabilities.
Aside from this main goal, is the objective of keeping chlorine oxides and salt oxidation to a minimum. Being around chlorinated water, (besides being dipped into it when used), pool lifts can easily and quickly develop deposits and corrosion on metal parts, even stainless steel and powder coated steel.
Gears, Batteries, terminals and hinges or joints are also important to keep clean of oxidation, which will eventually lead to pitting of the metal surfaces. Overall, pool lifts are simple devices, with simple and troubleshooting. If it's not mechanical, it's electrical. 🙂
Pools by the Ocean: Pools that are located in a salt water environment, near the ocean or bay, have additional work to do, to avoid corrosion of vital pool lift parts.
Pools with Salt Systems: Pools that use salt water chlorination have even more work to do – keeping the pool lift bits clean and lubricated to counteract the effects of being around salt and chlorine.
Indoor Pools: You know the air quality of a typical indoor pool. Good, but you can smell the chlorine (or chloramines). These airborne chlorides can quickly attach to metal parts of a pool lift, faster than some ocean front pools.
Outdoor Pools: For most outdoor commercial pools, using liquid chlorine, not in the ocean air – your difficulties with corrosion and oxidation of your pool lift components will be at the lowest level.
For many of your outdoor pools around the country, the Pool Lift Maintenance Schedule below will be suitable. For those pool lifts installed in the ocean air, or at indoor pools, or pools using salt chlorine systems, the monthly tasks may be accelerated.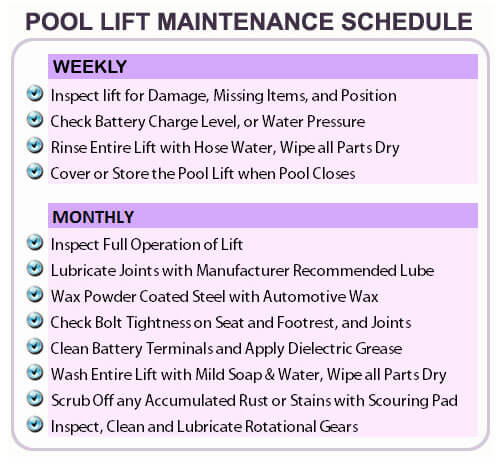 Print this list out and paste it on the wall somewhere in your pool facility.
Other Pool Lift Maintenance Tips:
Read your pool lift owner's manual, for parts and service schedules.
During the off-season, store pool lifts Indoors, but Not near chlorine.
Keep a spare pool lift battery in a cool, dry, climate controlled location.
If your pool lift has a battery operated remote, keep extra batteries on hand.
Always give assistance to users of the pool lift to prevent damage and injury.
Be mindful of your pool lift's weight limit, to prevent damage and injury.
Use a pool lift cover when not in use, to protect from rain, sun and dirt.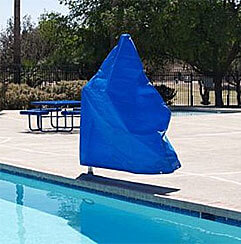 If you maintain the pool lift by following a regular cleaning and lubricating schedule, you'll have less surprises, and have a pool lift that will provide good service for many years to come.
In The Swim carries a full line of pool lift parts and accessories, like batteries, actuators, controllers and covers, to make fast repairs and protect your pool lift from the elements.
Thanks for Reading!


Mark Garcia
In The Swim Staff Blogger