Unless you have a very small filter that needs to run all the time to do the job, or a commercial pool required to keep it running, you are probably using a pool pump time clock. Pump timers allow you to run the pump less, or program specific times for specific jobs.
When you get tired of turning the pump on and off each day, or have forgotten to turn it back on… oopsie! Then, you will want to investigate pool pump timers. Today's post is a buyer's guide for the most popular or best pool time clocks.
---
Programmable Timer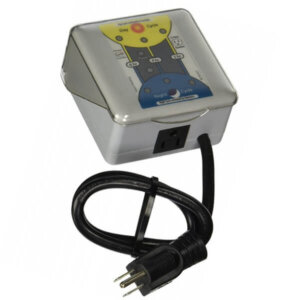 This 15 Amp pump timer lets you set your pool pump to run for 2,4 or 6 hours from sunrise and 2, 4 or 6 hours from sunset or any combination. Use this weather-resistant outdoor timer for your above ground pool or outdoor lighting.
Plug your pump directly into the Programmable Timer and plug the timer into any grounded outlet. Sensor detects dawn and dusk.
24-Hour Plug-In Timer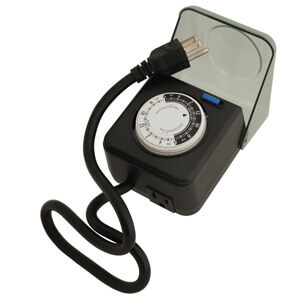 This heavy-duty pump timer lets you set your pump to turn on or off up to twice a day. Use this weather-resistant outdoor timer for your above ground pool or spa pump.
Very similar to the timer above, but has an override button to turn on the pump whenever you want some extra filter run time.
Intermatic Pump Timers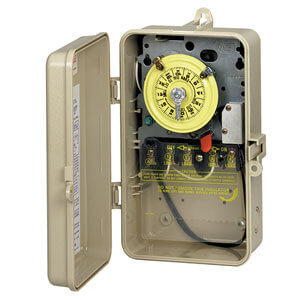 The most popular time clock for inground pools, the Intermatic time clock with the classic yellow dial, is virtually an icon in backyards across America.
Intermatic timer mechanisms are available for 120V pumps and for pumps wired with 240V. Above ground pools required to hard-wire their pool pump use model T101, and inground pools using up to 277V use model T104.
Intermatic Dual Timer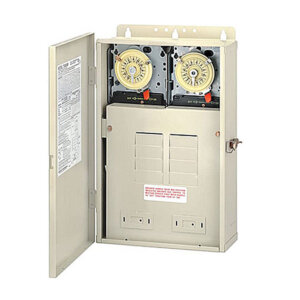 The Intermatic T3000 Series is a combination breaker box and timer box for two pumps, for a filter pump, along with a booster pump or a waterfall pump.
Dual Timer boxes are typically 100 Amp service, with two integrated time clocks. Includes 8 knock outs for breakers and a side knock out for a GFCI outlet.
Variable Speed Pumps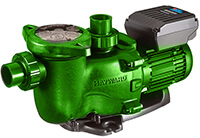 That's right a Variable Speed Pump has its own built-in pump timer, rendering external time clocks obsolete, or superfluous. Kind of like this blog post, in a few more years.
Why? By this time next year, July 2021, VS pool pumps will be federally mandated on all new pumps or replacement pumps over 1.0 THP.
---
Timer clocks will be a thing of the past for pool pumps. Some day that is, not today, we will probably control all our electrical appliances with a single app.
Hmmm, kind of like a Pool Controller!


Davy Merino
InTheSwim Blog Editor