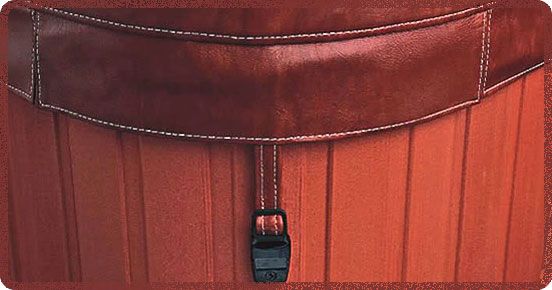 As we move into the fall season, it's a great time to take a look at your hot tub cover – especially if your hot tub sits outside. If your spa cover looks a little rough, worn or you can even see steam escaping from cracks and tears when the air temperatures dip, you're essentially watching dollar bills with wings, vanishing into thin air. It's time for a new spa cover.
While a spa cover seems like a rather straight forward purchase (as long as it fits!), there's a lot more you should take into consideration when searching to buy a new cover – especially for outdoor, year-round use.
The #1 thing your spa cover does, is insulate your hot tub, trapping the heat and moisture under the cover. If you live in a cold weather winter region, you will want a spa cover with a higher foam weight and foam density to improve the cover's R-value.
R-Value and Hot Tub Covers
A larger R-value number means the foam, and the cover, has better insulating properties that will better retain the heat in your hot tub, thus saving you a ton of money in energy costs. A low R-value spa cover in a cold region will allow a lot of heat to escape, and your spa heater will work overtime to keep up with the heat loss.
R-value increases in several ways for spa covers. First, the foam core panels can be purchased in different weights and thickness. 2 lb foam is twice as dense and heavy as 1 lb, and a 6″ to 4″ foam panel thickness has more than twice the R-value than 4″ to 2″ taper covers. Other R-value factors include the weight of marine vinyl used, vapor barriers around the foam core, the type of zippers and stitching used, skirt length and hinge seals that help prevent heat loss.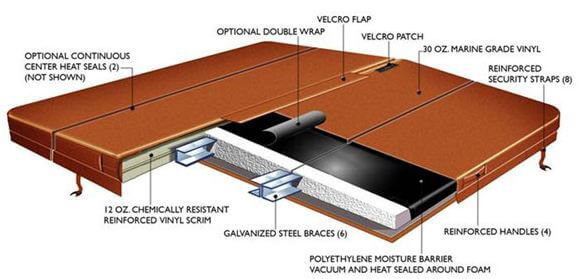 In simple terms, if you go for a lower-cost spa cover that has a lower R-value, that cheap spa cover could end up costing you a lot more money than the most expensive spa cover on the market. Running your pump and heater overtime will not only hit you in the wallet each month, but can cause premature equipment problems or failure.
In even more simpler terms, a spa cover that works fine all winter in southern California is not going to work in Colorado. And, I should not fail to mention that a cover that does not fit properly, too small or too large, or one with incorrect corner or radius dimensions, will be less efficient and effective at keeping the heat in the water.
In short – Buy the Best Spa Cover for your Climate! 
FOR VERY MILD WINTER CLIMATES with rare freezing – southern sunbelt regions that stay warm all winter (usually), you can use a 4″ to 2″ taper, but do your wallet a favor and get the denser foam core, 1.5 lb or 2 lb. foam.
FOR MILD WINTER REGIONS with occasional snow or freezing temps, a cover with a 5″ to 3″ taper should work just fine, with the 1.5 lb. or 2 lb. foam. The foam thickness is sturdy enough to withstand some snow resting on the cover.
IN COLD WEATHER AREAS in the 'snowbelt', with heavier snowfall and long periods of cold temperatures, you'll want the 6″ to 4″ taper, which also has a heavier duty channel along the fold for greater support. Get the 2 lb. foam for the best efficiency.
---
All of our spa covers include a 2″ skirt, 2 bonded handles, and 4 locking cover straps – all standard! We use polypropylene stitching and webbing, and our foam cores are vacuum wrapped with heat sealed seams.

Spa covers are available in 14 standard colors, one that's sure to match (or contrast) your spa patio decor.
To best differentiate among our 4 grades of hot tub covers, look at the warranty and the foam core density and thickness.
Spa Cover Warranty:
They range from a 1-year warranty, all the way up to our 5-year warranty, which covers not just materials and workmanship, but water absorption, too! It's one of the strongest spa cover warranties available!
Foam Core Density:
Foam density is measured by pounds per square inch. The lower the foam density, the more air contained in the foam. Much like the foam thickness, higher foam density makes a stronger spa cover that can handle heavy snow or sleeping dogs. Denser foam also has a higher R-value, to provide greater heat trapping insulation to reduce heat loss.
Foam Core Thickness:
Outdoor spa covers are tapered to allow rain to run-off. The hinge is the thicker end of the cover taper, running across the middle of the hot tub for support and strength. We have three tapered thicknesses available; 4″ to 2″, 5″ to 3″ and 6″ to 4″.
Other Ways to Improve Heat Retention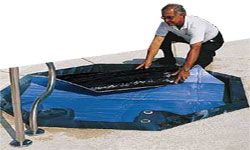 Adding a floating spa blanket can also help a cover that is struggling in cold winter temperatures. The Floating Spa Cover Protector is a thick thermal spa blanket to trap heat, chemicals and ozone from escape. Comes in a 4 sizes, and can be trimmed to fit any spa.
Using a floating spa blanket underneath your spa top can help reduce the moisture beneath your spa top, and can help retain more heat in your spa on the coldest of winter days.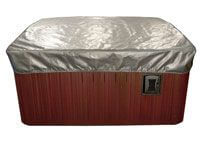 Using a Spa Cover Cap can also help protect your spa cover from damage when the snow melts up against your spa cover and refreezes, I use a spa cover cap on my spa, it blocks the wind and rain and keeps my spa cover looking clean and new. The reflective surface also helps to melt snow faster.
The Protecta Hot Tub cover does the same thing for your spa cover, but also protects the side of your spa cabinet, covering your entire spa, which also discourages unsupervised hot tub users. Comes in 3 square sizes to fit nearly all spa shapes and sizes. I use this on my own spa!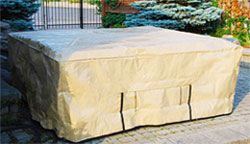 Beyond heat and moisture insulation, a hot tub cover also provides important safety measures, helping keep unsupervised children and even pets out or your spa. Be sure to adjust snugly, and always securely fasten your spa cover clips. This will make it harder for children to tamper with as well as keep your spa cover in place in gusty winds.
Spa Top Care & Maintenance
Once you receive your spa cover, care for it properly to ensure the longest life possible.   Leave the cover off for at least 15 minutes after adding chemicals so that the chemical vapor can evaporate into the air instead of in to the underside of the spa cover.
Remember to remove your spa cover completely when you use the spa, and place it in a clean and dry location. Spa tops that hang partially into the spa water, or are left to sit in a mud puddle for too many nights will take on water, or may risk breaking of the foam plates inside.
You can also protect the vinyl covering from dirt and UV rays and keep it looking nice and shiny by using a spa cover conditioner. Never use harsh chemicals on your spa top to clean, but use a mild cleanser monthly before using a vinyl protectant. Automotive products for cleaning and protecting interior finishes could also be used on your spa top to keep it looking new.
There are several products available for maintaining the cover, including our Spa Cover Cleaner. Avoid cleaning products that contain alcohol, oils, detergents or bleach. Anything with the word 'flammable' on the label means that it will damage the marine grade vinyl of your hot tub cover.
Remember to keep the water balanced – poor water chemistry leads to damage to the stitching and seals on the underside of a spa cover.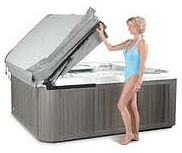 When removing a cover, Spa Cover Lifts can be handy because it prevents stress on the cover, and on you too!
When using a Spa Cover Lift, it is important to use the handles. To prevent damage to the spa cover, don't let it slam open or closed, and never lift the cover by the skirt – use the handles.
Buying a Custom Spa Cover
Compare Spa Top Thickness:
Spa tops come in various thicknesses and foam densities. The higher the foam density and the thicker the cover, the more heat it will help you to retain in the spa. The foam used on your spa top has a particular R-value, the standard used for comparing insulation.
The downside to a thicker, denser cover is that they will be a bit heavier and a bit more expensive. The upside is increased heat retention and strength. Outdoor spa covers will have a taper to allow for rainwater run-off. For example, a 4" to 2" taper cover is 4 inches thick in the center of the cover, tapering down to 2 inches thick along the edges. Indoor spa covers can also be tapered, or for maximum efficiency, can be 4″ thick all the way across.
Compare Spa Top Options:
Once you've chosen the thickness of spa cover you'd like, you can move on to the options available to you. If you have a freestanding spa or hot tub, you should have a skirt on your spa cover. A skirt is simply additional vinyl material that hangs down off the cover to reduce heat loss where the cover meets the outside edge of the spa.
If you still have your old cover, measure the skirt to determine what it should be on the replacement cover. If you do not have the old cover, a 2 inch skirt is fairly standard, but there is usually no additional charge for skirt lengths up to 4 inches. You may consider having the corners of the skirt split instead of running in one continuous piece around the spa cover edge. This helps to ensure the skirt hangs nicely and does not bunch up around the corners of the spa cover. It should be noted though that while a split skirt looks nicer in some cases, it may allow some heat to escape.
In The Swim carries 4 different kinds of spa covers. The specifications of each are listed below.

Spa covers can be ordered by spa manufacturer, or if that's not known, by shape and size of tub. Print our spa cover measuring form to email or fax, or just fill out all of the questions on our online spa cover ordering tool.
The location of the hinge, running across the middle – can also be specified if you like. If not specified, our fabricator will place it in the middle of the longest side. Large spa covers, over 96″ are generally a 3 piece spa top; one single piece and a double folding piece.
You can also choose the number of handles you would like. 2 handles generally come standard with a cover, but you may want more, or perhaps you don't need any at all depending on the shape and location of your cover.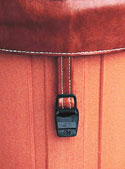 Most spa owners want the ability to lock the spa top down to the spa cabinet. Usually 4 locks will be included with the cover along with 4 fasteners attached to the cover. You will install the locks onto the spa cabinet so you can clip the fasteners on the cover into the locks so it is secured in place. In ground spa tops do not generally have such clips to secure them in place.
Taking Spa Cover Measurements:
The measurements you need to provide will vary based on the shape of your spa, but when measuring, take the dimensions of the spa from outside edge to outside edge.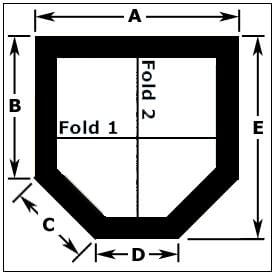 If you have an in-ground spa (such as the one pictured below), and the spa cover will be lying on the ground, be sure to note that for the manufacturer.  The spa cover needs to be large enough to lie on the coping around the spa without falling in. Generally this means the cover will need to be about a foot larger than the spa itself. The best thing to do would be to provide the inside dimensions of the spa and allow the manufacturer to determine the necessary overlap.
To determine the specific measurements required for your spa, please see our spa cover measuring form. Always be sure to note if you have any obstructions or a control panel that you would like to access while the cover is on the spa.  A cut out in the foam may be required for the proper fit.
Spa Cover Measuring Tips
Use a real tape measure, and not a ruler. Take your time.
Measure from outside to outside; to the outer edge that the spa top will cover.
Round up all measurements consistently to the nearest inch.
Do not measure your old spa top but measure the spa or hot tub shell itself.
Check your measurements against our Spa Cover Designer tool.
Round Spas: These are the easiest to measure you just need to take a diameter or overall width. Check it twice measuring perpendicular to your first measurement. This double checks your accuracy and ensures that the spa is a true round and not slightly oval.
Square Corners: Square spa shells are rare but they do exist. I am not talking about the shape of the spa skirt around the spa but only the spa shell. These shapes are also fairly straight forward to measure. Measure from outside corner to outside corner, and record your measurements.
I've discussed some of your basic options and measuring tips, but be sure to specify your needs if I haven't touched on them here; odds are your request can be accommodated.  Any size, any color, any shape – we gotcha covered!


Sheryl Somers
In The Swim Staff Blogger